Application
Service
Description
Protein Degrader/PROTAC Assays

Determine total proteome/protein before Degradation
Ubiquitinylated intermediate(s)
Quantify resulting degraded protein
Confirm released peptides during degradation
Evaluate effect of the chosen Degrader on downstream signalling
Degrader off target effects on whole proteome
Advantages
Detection and quantification of 10,000+ proteins in 10 to 100s of cell lysate samples
Can determine all or part of


the degrader efficiency in respect of the presence of the degraded protein after reaction,
the presence of degraded peptides arising from the degradation
the ubiquitylation intermediate
the effect of protein loss on downstream signalling pathways
the specificity of the degrader to a single selected protein or cross reactivity of other proteins in the sample proteome
monitor off target / adverse effects

Includes full computational proteomic analysis and bioinformatics covering extensive data interpretation, including pathway analysis and biological relevance
Targeted protein degradation through the use of molecular glues and PROTAC's (proteolysis targeting chimera) is a rapidly evolving field using small molecules to promote selective tagging of target proteins and directing them for proteosomal or lysosomal degradation. Whilst the approach can be highly selective, it is important to monitor the level of protein degradation and look for non-specific protein targeting.
We offer analytical services to support targeted protein degradation drugs at multiple levels (Figure 1).
Peptidomics - identify & measure proteosomal/lysosomal peptide fragments
Proteomics - confirm loss of target protein, assess evidence of cross-reactivity, monitor wider changes in cell signalling and biological processes
Enrichment Proteomics - monitor levels of pro-degradation tagging (Ubiquitin, LC3B etc)
Any of these workflows can be run as single projects, e.g. to only monitor changes in the total proteome before and after Degrader action.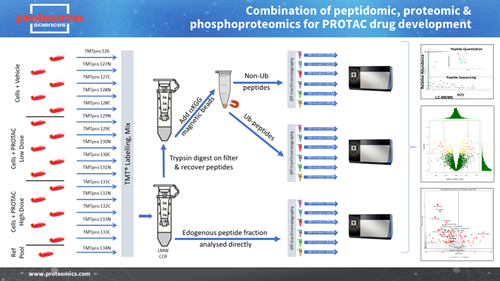 Figure 1 - Three-level analysis of targeted protein degradation using sequential sample preparation and mass spectrometry with TMT and TMTpro reagents.
What's included

Incoming sample QC to check sufficient protein in samples for a satisfactory analysis
Protein isolation, peptide cleavage and TMT labelling
Mass spectrometry-based peptide and protein ID
Computational proteomics and full bioinformatics analysis
Comprehensive report summarising the proteins, peptides and if applicable the peptide-PTM's. Data interpretation, pathway analysis and biological relevance
An Excel based QuantSheet detailing qualitative and quantitative protein identification data.
Provision of all raw data if required

Material required

This is sample and assay specific and will be detailed in the agreed Statement of Work - please contact us to discuss your specific needs so we can start the Statement of Work preparation

Typical turnaround time

Generally 6 to 8 weeks from receipt of up to 36 samples to submission of the comprehensive analytical report and associated data.