Application
Service
Description
Maximising quantification of biomarkers in serum and plasma

Top-14 and Top-65 Super Depletion of proteins from serum and plasma

Upfront Immunoaffinity sample depletion step.
Depletes 95% or >99% of the most abundant proteins in plasma.
Increases plasma proteome coverage from under 1,000 to approx. 4,500 with TMT based LC-MS2.
More than 8,500 proteins can be detected if used in combination with TMTcalibrator.
The leading method currently available to quantify high protein numbers in serum and plasma.
Advantages
By employing proprietary sample preparation and TMTcalibrator tissue trigger this method can report over 8,500 proteins from serum or plasma.
Used in conjunction with serum and plasma from samples from human, rat, mouse and monkey.
Generally technique is far more sensitive than the same assay performed with label free mass spectrometry. With TMT based isobaric tags we can report as low as 30% changes in a particular protein in your samples vrs 3 to 4 fold with label free methods.
Due to the unbiased nature of the analysis, we report all proteins/PTM's that are detectable, unlike antibody or aptamer/affimer based technologies where the data is biased to the make-up of the pre-selected antobody/aptamer panel.
Multiple samples can be analysed on one Mass Spectrometric run. Using a common reference channel per TMT-plex we can quantify samples from a large 100+ cohort.
Includes full computational proteomic analysis and bioinformatics covering extensive data interpretation, pathway analysis and biological relevance.
Advanced Immunoaffinity fractionation of highly-abundant proteins has proven to be one of the most effective approaches for overcoming the wide dynamic range of protein concentration, as well as enabling the detection of low abundant proteins in blood fractions such as plasma and serum. Whilst removal of the top 14 proteins is commonly used, we have adopted Super Depletion which adds a second level of depletion removing a further 50+ medium-abundant proteins to deliver the broadest and deepest coverage of the plasma and serum proteomes.
We use a two-column system which sequentially removes around 99% of total protein content through depletion of ~70 proteins. We are able to process 15 plasma or serum samples per day for high-throughput analysis. After depletion, proteins are digested, labelled with TMT reagents and mixed into the analytical multiplex 11- or 18-plex sample. We tested the reproducibility of depletion and saw average CVs of 12% and 10% at peptide and protein levels respectively. Over 80% of protein quantifications had <20% CV across 18 replicate measurements. Typically we will quantify 3 - 4,000 unique proteins per 18-plex study.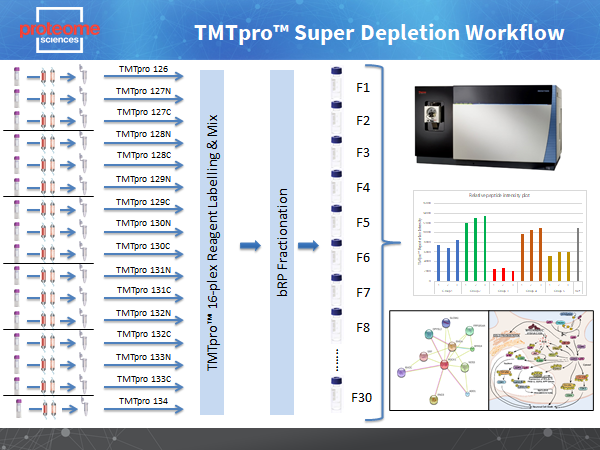 This serum/plasma Super Depletion sample pre-treatment is offered without TMT LC-MS2 and TMTcalibrator services, both with 11-plex and TMTpro 18-plex offerings.
Further gains in coverage can be attained when combining Super Depletion with TMTcalibrator where we have been able to quantify >5,600 plasma proteins in a cohort of 30 samples across 5 x 11plex experiments, and >8,500 plasma proteins in individual samples.
Volumes required for analysis
| Application | Plasma/Serum | CSF | Tissue Trigger |
| --- | --- | --- | --- |
| LC-MS2 with Super Depletion | 250ul | Not applicable | |
| SysQuant phosphoproteomics | Generally not applicable | Not applicable | Not applicable |
References
Reference 1
Discovery of Peripheral Blood Biomarkers in Idiopathic Pulmonary Fibrosis Using Extensive Depletion and TMTcalibrator Tissue Enhanced Plasma Proteomics. Poster presented at American Thoracic Society Conference 2018.
Super-depletion removed ~99% of total plasma protein.
Detection limit in mid-pg/ml range.
~4,000 proteins quantified with Super-depletion only, more than doubled to over 8,500 when tissue trigger added.
Key post-translationally modified proteins only detected when using tissue trigger.
Improved coverage of select IPF-related proteins.
Proportionally greater impact on detection of cellular vs secreted protein classes and for lung-associated proteins with TMTcalibrator than in Super-depleted plasma alone.
Reference 2
Proteomic Analysis of Plasma and Tissue Samples for the Identification of Pharmacodynamic Biomarkers in IPF. Poster presented at American Thoracic Society Conference 2018.
TMTcalibrator workflow increased the number of quantifiable plasma proteins from ~4500 to over 8,500.
Enhanced the detection of lung-derived proteins.
Panels of 36 proteins and 645 peptides significantly different in IPF/healthy plasma.
Known markers of inflammation and fibrosis showed regulation as expected.
Analysis of larger, well characterized IPF patient cohorts using this technique may help to identify novel circulating biomarkers for fibrotic disease.
An example report is available upon request.
What's included

Incoming sample QC to check sufficient protein in samples for a satisfactory analysis.
Top 65 protein depletion.
Protein isolation, peptide cleavage and TMT labelling.
Mass spectrometry-based peptide and protein ID.
Comprehensive report summarising the proteins, peptides and if applicable the peptide-PTM's. Data interpretation, pathway analysis and biological relevance.
An Excel based QuantSheet detailing qualitative and quantitative protein identification data.
Provision of all raw data if required.

Material required

This is sample and assay specific and will be detailed in the agreed Statement of Work - please contact us to discuss your specific needs so we can start the Statement of Work preparation.

Typical turnaround time

Generally 6 to 8 weeks from receipt of up to 36 samples and submission of the comprehensive analytical report and associated data.